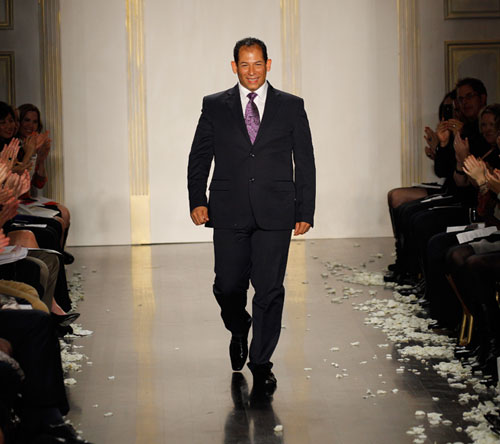 Lazaro Perez
Lazaro Perez, designer of the Lazaro and Tara Keely collections, has long been highly regarded as one of the fashion world's premier bridal designers. With more than twenty years of design experience, Lazaro is renowned for his glamorous collections featuring dramatic silhouettes, impeccable fits, and exquisite beading and embroidery.
An enduring celebrity favorite, Lazaro is a go-to designer for both private and public events. In 2013, Mariah Carey renewed her vows to Nick Cannon in a princess-inspired gown, and recently Morgan Petek tied the knot with country singer Jerrod Niemann in a Lazaro creation. His clients have also included actresses Christy Romano, Laura Perloe and Joelle Carter (who wore a strapless crimson Lazaro evening gown to the Emmys), television journalists/hosts Adrianna Costa and Ashlan Gorse, jewelry designer Gigi Yallouz, and surfer Bethany Hamilton.
Gracing the cover of the Winter 2015 edition of The Knot, Lazaro wedding gowns are often seen in People and US Magazine as well as such sites as E! Online and PopSugar. His creations, and Lazaro himself, frequently appear on TLC's "Say Yes to the Dress" in New York and Atlanta, and WEtv's "Girl Meets Gown," and have been featured on such diverse TV shows and networks as "Good Morning America," "The Today Show," "Good Day L.A.," Fox Business shows, Telemundo, Univision and American Latino TV, among countless others.
Upon graduating from the respected Ray College of Design at the Illinois Institute of Art, Lazaro quickly caught the attention of a premier bridal salon in Chicago when he was awarded "Best New Bridal Design" in all three categories of bridal, bridesmaid, and mother of the bride. His design talent soon led him to New York, working for the then-prominent bridal house of Galina-Bouquet. From there he moved on to become the designer for Richard Glasgow's Riccio collection. JLM Couture president and CEO Joseph Murphy subsequently brought him into the JLM group and in 1994 launched the Lazaro Collection of bridal and bridesmaid gowns. In February 2010, Lazaro was also named head designer of JLM's Tara Keely Collection.
Lazaro has been repeatedly recognized by the fashion industry. Among other honors, in 2001 he was given the Distinctive Excellence in the Bridal Industry (DEBI) award as "Style Innovator for Bridal Gowns," as well as being named "Designer of the Year," and in 2004 he received the "Couture Bridal Award" in the bridesmaid category by Wedding Dresses Magazine.
Inspiration is a personal quest for Lazaro. He travels to many of his trunk shows to meet with brides-to-be, helping them pick the most flattering styles that best express their personalities. Because when that special day arrives, guests may "ooh" and "aah" over the cake, the flowers, even the groom, but Lazaro knows that all eyes will be on the bride.