Hayley Paige Holiday Wish List
We decided to take a break from our traditional bridal blogging to bring you some holiday cheer in the form of Hayley Paige! We sat down with the designer to see exactly what she is asking Santa for this year. Here's what she said!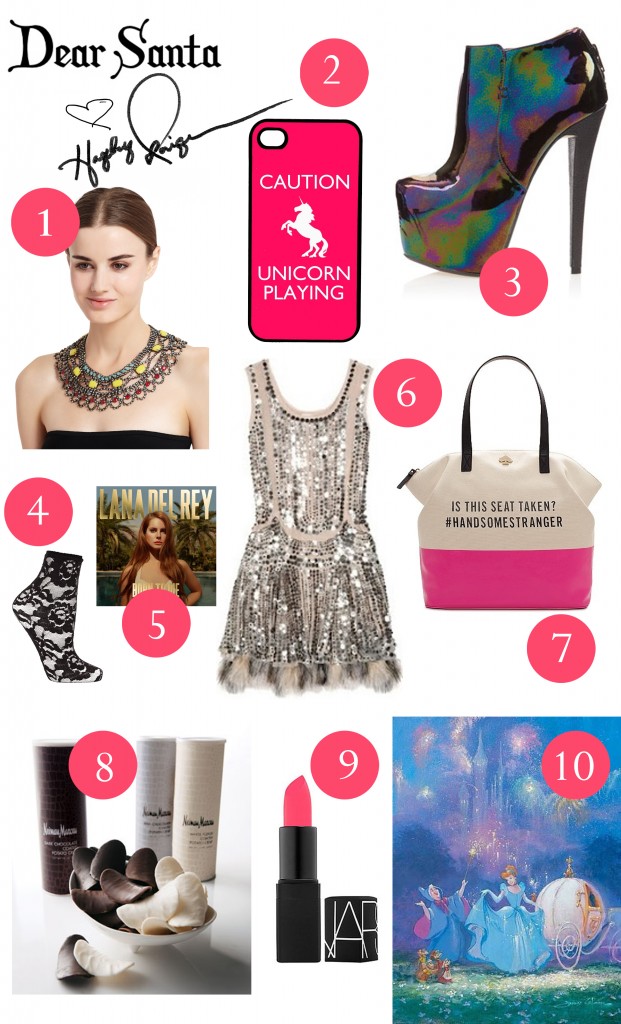 1. I LOVED incorporating beaded boleros and jewele necklines into my collection this season and this bib necklace from BCBG is a
perfect statement piece for everyday wear!
2. Unicorn iPhone case. Obviously.
3. Iridescent sky scraper booties from Top Shop.
4. What's a Christmas list without socks? These sheer lace socks are uber chic and sass up any basic pump. Top Shop.
5. Cannot get enough of this pouty girl/gangster Nancy Sinatra.
6. Perfect New Year's dress with my three favorite Hayley Paige details: sheer, sparkle, and feathers.
7. Carry all Kate Spade tote with a great attitude.
8. As a kid, I used to put potato chips in my peanut butter and jelly sandwiches...gourmet chocolate covered potato chips from Neiman
Marcus sound right up my ally!
9. Nars Neon Pink Matte Lipstick In "Kissmequick"...So I can leave my mark under the mistletoe of course!
10. A Cinderella Moment <3

---