Do the Bustle: Tips on Bustling Your Wedding Dress from Lazaro and Hayley Paige
Great news – you found the perfect bridal gown for your wedding! Now it's time to learn how to bustle it or decide if you even want to bustle your wedding dress. A bustle lifts the train of your bridal gown and allows for ease of movement during the ceremony and reception. JLM Couture designers Lazaro and Hayley Paige share their tips about bustling a wedding dress below!
1.     Is there ever a time when you don't need to bustle your gown?
Hayley Paige: If your gown has a sweep train, which means it only extends a few inches past a standard floor length hemline, there is really no need to bustle. I had a substantial "bustle-necessary" train on my ballgown and completely forgot to bustle it on my wedding day! Luckily, the fabric was lightweight and easy to dance in, so I didn't have any issues or realize it until after the fact.
Lazaro: I agree with not bustling unless the gown has a train. It's important to discuss bustling right away during alterations so you, the bride, can form your own opinion and decide. The fitting process is the critical moment in making this decision.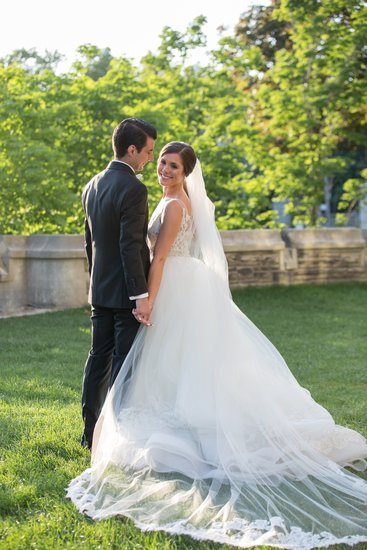 Real bride in Lazaro Style 3607 
2.     What type of gowns require bustling? 
Hayley Paige: Not only is silhouette and fabric weight important with regards to your bustle, but so is personal preference.  The bride should assess during her fitting about wearability and what she is comfortable with. I would suggest any gowns with a lot of volume or extensive trains need a bustle. You want something that ultimately helps with mobility and does not distract from the look of your gown.
Lazaro: Most bridal gowns will have long trains that follow behind. If that is the case, I recommend bustling, especially if it also has a wider skirt, typically seen in ball gowns.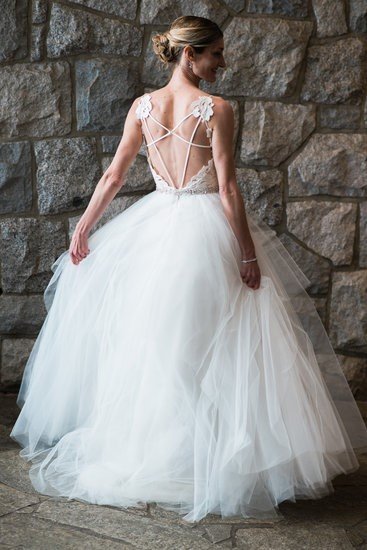 Real bride in Blush by Hayley Paige Style 1600 / Halo Wedding Gown
3.     Can you explain the diverse ways of bustling and how it can be helpful during your wedding?
Hayley Paige: There is more than one way to tie up your train, that's for sure! It's important to think about mobility and convenience. Here is a little break down of the two main types of bustles and the variation within each: 
1. An Over Bustle (aka: American style or ballroom bustle) - when the fabric is picked up and folded on top at a higher point (usually in the center back seam, but it can also have multiple fold over points if it's a large sweeping train). This technique is quick and basic, but you can easily jazz it up with multiple pick up points or the ruching effect. This type of bustle works on most types of fabrics and most delicately with tulle. Bride beware: if you are going with a satin, it can sometimes look a bit heavy if you are using multiple pick up points, so just be sure you really look from all angles.
2. An Under Bustle (aka: French style or Victorian bustle) – this is when the fabric is tucked underneath to create a blouson effect in the fabric. This technique is essentially the reverse of the Over Bustle and usually requires ribbon ties in the under layers of the gown. It also creates a little more of a drape effect, so again it's important to really look from all angles to make sure it doesn't change the look of your gown or add weight.   
Lazaro: The two bustle techniques Hayley mentioned are very popular amongst brides. Bustling your gown will give you the ability to move freely in your dress, and keep it from dragging on the floor all night and potentially getting dirty. Most brides tend to preserve their wedding dresses afterwards as well. When having your dress altered by a bridal seamstress, they usually show a few options to see which the bride would like best. Of course, they will give their recommendations as to what would work best for the look/silhouette of the dress.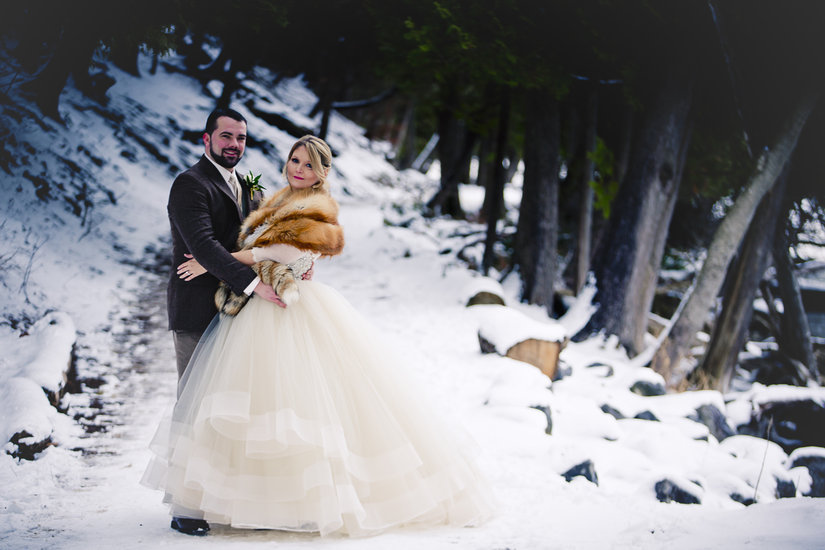 Real bride in Lazaro Style 3608 
4.     Do you think bustling your gown takes away from the total look of the dress?
Hayley Paige: This is truly about personal preference and what you like best. Sometimes the bustle not only adds mobility on the dancefloor, but can also be done in a way that is effortless or adds a little something special. Other times, it can add weight or be manufactured in a way that takes away from the design.
Lazaro: Not at all! If anything, it will add a distinctive look to your dress once bustled and can help the bride stand out on her special day.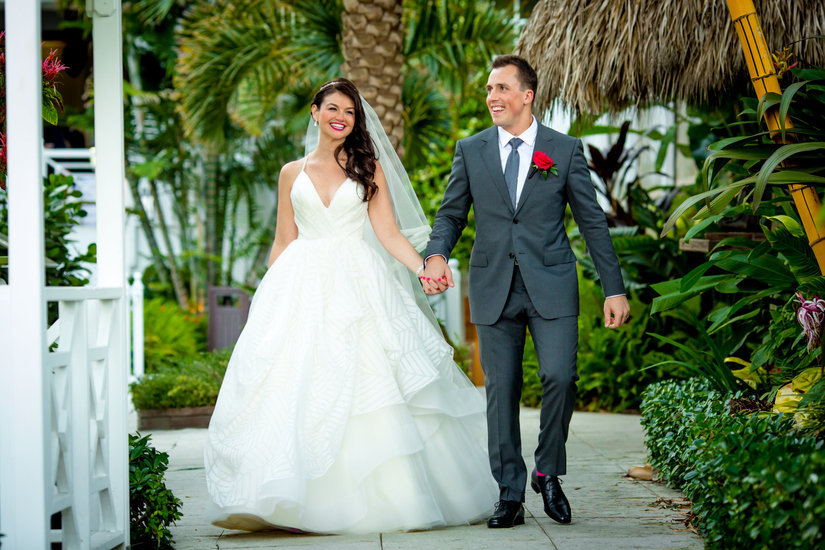 Real bride in Hayley Paige Style 6550 / Behati Bridal Gown
5.     If you don't bustle your gown, what are some of the consequences you will encounter?
Hayley Paige: The occasional person could step on it or you could feel limited in your dance moves/getting around the room.
Lazaro: There is a possibility that the dress could rip or become dirty after wearing it all day and night. Sometimes dry cleaning won't get out the deep stains that occur if your dress is not bustled.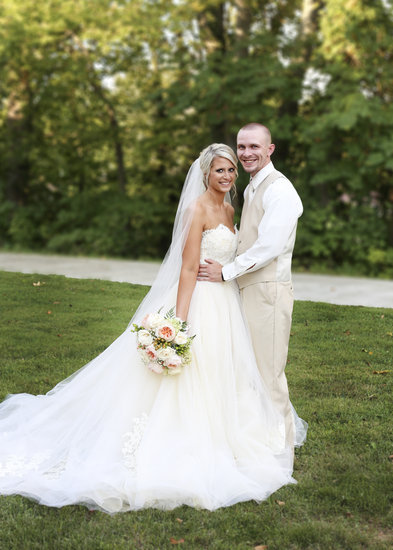 ---