Hayley Paige + Nordstrom Event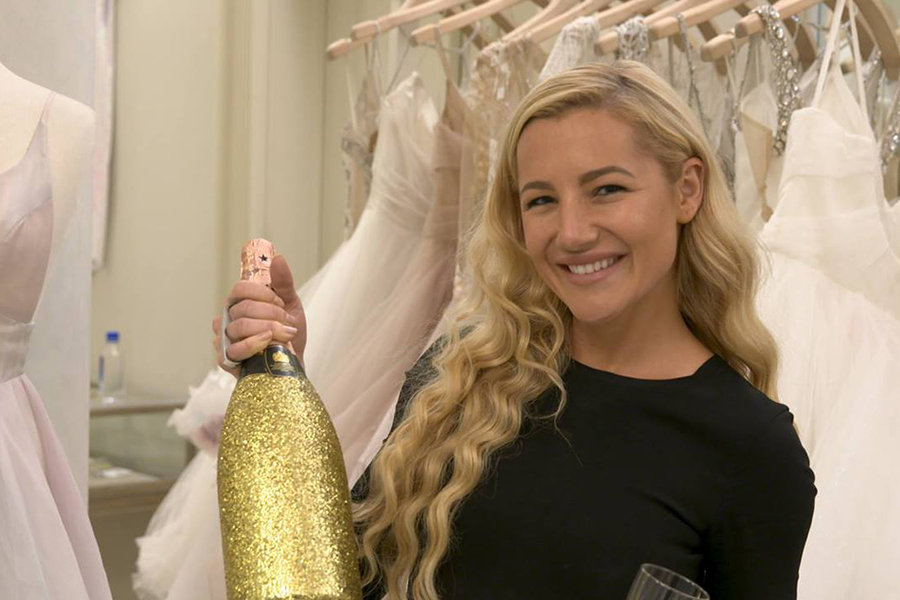 Following NYFW: Beloved bridal designer, Hayley Paige, will travel to Nordstrom's headquarters in Seattle for a sparkle-filled event and trunk show. VIP brides will get to meet Hayley to 'say yes to the dress' and get her advice for fittings and all things wedding-related! To prep for this event, Nordstrom conducted an excluisve interview with Hayley. Read the full interview below and find a trunk show near you here. 
Describe the Hayley Paige bridal aesthetic in three words.
Bonafide. Happy. Supercaliswagilisticsexyhelladopeness.
What makes a Hayley Paige bride? What is she looking for in her wedding day look?
She is a go getter and a thrower of confetti. She also has a great sense of humor. I think she looks for a gown that compliments her unique attributes in an artistic, yet playful way. "I want to underwhelm them" said no Hayley Paige bride ever! 
What do quality and craftsmanship mean for Hayley Paige bridal? How do materials and construction come together to achieve such beautiful gowns?
Hayley Paige gowns are made in New York City. I like to think that the heartbeat of the Garment District is wildly pumping in every dress! We are a product-driven business, but my goal is create imaginative and unique gowns that justify the emotional purchase. I believe in the three C's: composition, construction, and consistency. 
I understand that the Hayley ball gown is the dress you wore for your own wedding ceremony. What is it like seeing brides choose this style for their big day? What was your favorite moment from your own wedding? Did you have a favorite among your several bridal gowns? (The Paige two-piece gown was absolute MAGIC.)
Designing for my wedding day was such a personal experience, since I was only thinking about myself. Watching the very women that inspire me helped me choose the Hayley gown out of authentic appreciation in a moment of ultimate camaraderie. There is a magnetic connection and a glowing desire to keep delivering for her. As for my favorite moment from the big day, after the party is the after-party, right? Not! Instead of running hot at a dive bar or losing money in the casino on our wedding night, Danny and I went back to our hotel room, took a bubble bath, and ordered the most delicious nachos on the entire planet. It was pure marital bliss, with cheese on top.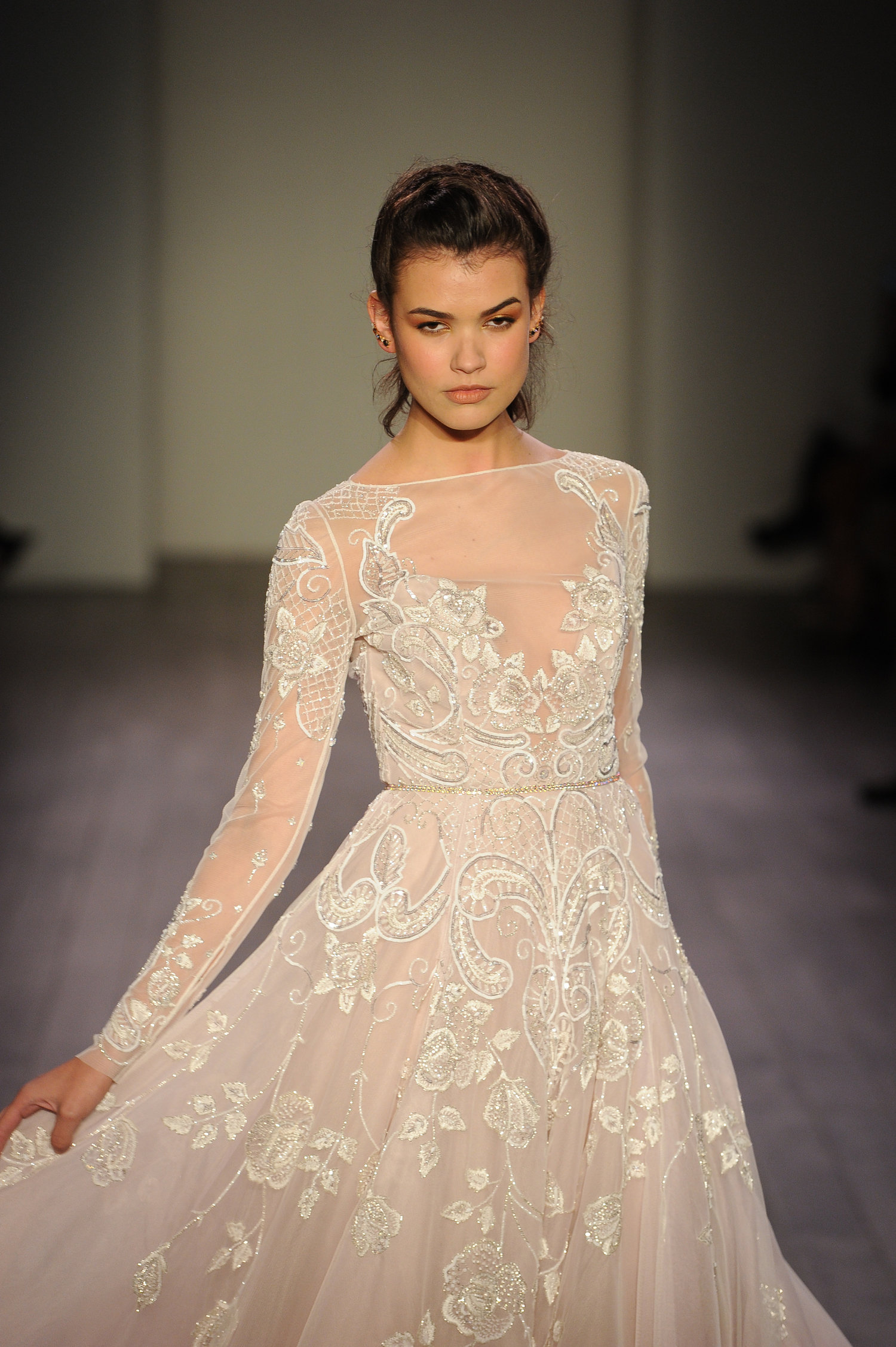 Hayley Paige bridal is wildly romantic and timeless, but with contemporary details that depart "traditional" and exude happiness. Where do you find your design inspiration? (Travels abroad? Your surroundings? Art? Previous weddings?
For me, inspiration is multi-faceted and always personality-based. I love harnessing different energies in each individual dress just as each bride embodies a fantastically different spirit. Creativity is having an appetite for interpretation and always being a student of design. My goal is to continually keep in touch with my imagination. To be truly authentic, you must be willing to take risks and always be evolving.
Tell me about Hayley Ever After. What's been the most exciting moment from creating the series and how does it feel to mentor the next generation of bridal designers?
I loved the storytelling element of the project. The digital series offered a unique peek into brand building and behind-the-scenes moments, whereas the TV special focuses on my interaction with a generation of young creatives and how to create an environment that facilitates the design process.
Although I've always wanted to make pretty dresses for a living, I didn't always have the confidence in myself or understand the viability of design as a profession. I want to create a space that is inventive and inspiring for young designers.
What advice would you give to the bride who wants to go bold and brilliant on her big day, but doesn't know where to start? How do you encourage brides to be true to themselves and dress for the now?
With a giant smile and a charming sense of bad-assery! I want her to feel like it's her sparkly super bowl and she gets to make up her own rules. It's her time to shine and embrace that wow-factor moment. Adding a personal touch or fabulous accessory is always a fun touch and I never shy away from a unique style moment. Then again, sometimes your pearly whites, a glass of champagne, and your hubby on your arm are the only accessories needed!  
What is the most rewarding thing about helping a bride dress for her wedding?
Sometimes it feels like the most stylish trust fall of all time. At the end of the day, my true goal in working with a bride is waiting for her to show that inexplicable "glow". If there's no glow, it's a no go and I would rather kill a sale than walk away with a feeling that I didn't fully represent myself as her bridal confidante.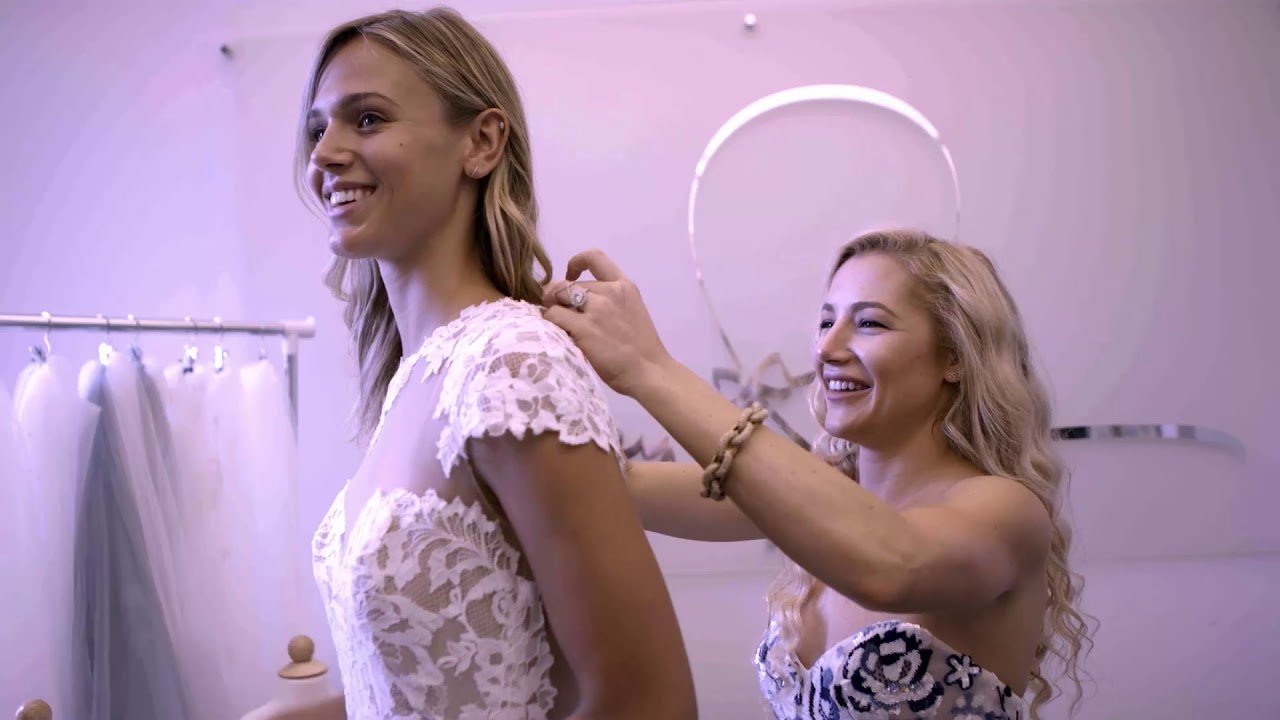 Any tips for attending your first bridal appointment? How about the final fitting?
Try on at least one gown that you normally wouldn't go for. You would be shocked at how many times a bride walks into an appointment thinking she's Jessica Rabbit and leaves as Cinderella. As for the final fitting, I recommend doing your hair and make-up test the morning before so that you can really see the whole shebang. Dress rehearsal people!
What's trending in the bridal world that has you taking note?
To be on trend right now is to be unique. Trends are ever changing and always open for interpretation. At the moment, it's all about sleeves and shades of champagne. I also see more brides willing to take a true fashion risk, whether that be going for a colored gown or a super plunging neckline, I love the wildness and pageantry of it all. The willingness to go all out is where we have the most fun. 
---