JLM Couture Love Story #4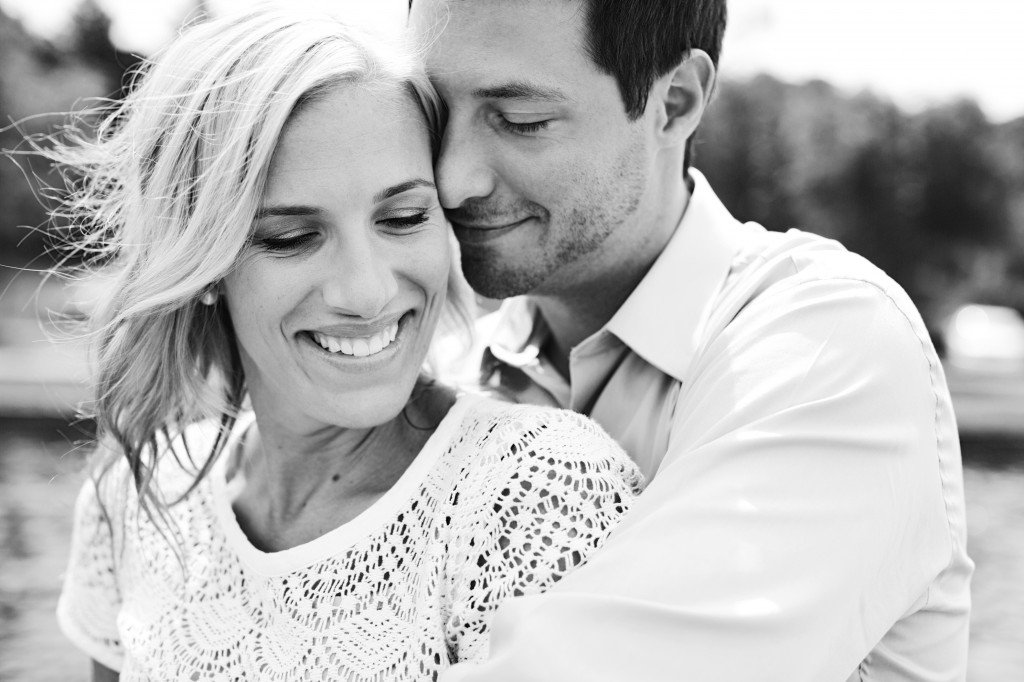 How we met:
"Brandon and I met at a wedding.....  yes, how cliche does that sound!  He was living in Tampa, Florida at the time and flew up to Minnesota to stand up as a groomsmen in his cousin's wedding.  I am from Minnesota and my high school girlfriend had asked me to be one of her personal attendants.  Yes these are the same weddings!  The night of the rehearsal dinner, I commented to my fellow personal attendant and best friend, "who is the hot, tan groomsmen in the purple shirt?!" We looked in the program, established it was the grooms cousin "Brandon", and I thought nothing else of it - he was way out of my league... :)
The wedding day came and the night was winding down - it was busy and fun and I didn't really have time to think about that cute guy I
spotted the night before.  I was doing my personal attendant duties!  At the very end of the reception the entire wedding party (including myself) was waiting outside the venue for the coach bus to pick us all up, and bring us back to the hotel.  I must've have been cold (well, I was - I'm always cold!) and I must have looked like it.  Before I even knew it, someone was putting their jacket on me..... I turn around... IT WAS THE HOT GROOMSMEN!  He said "Hi, I'm Brandon." When the bus arrived, he asked if he could sit by me - and we started to talk.  The next morning as most of the wedding party was eating breakfast in the hotel, he asked for my number before heading back to the airport for his flight back to Florida.  I gave it to him of course, but thought "he will never call me!"...  That afternoon my phone rang and it said "Brandon" on the screen....
After 1 year of long distance from Tampa, FL to Minneapolis, MN - many flights down, many flights up, endless phone calls, millions of texts... Brandon took the biggest leap of faith and left his management role in distribution for a major corporation and moved to Minneapolis, MN to give our love is fair shot".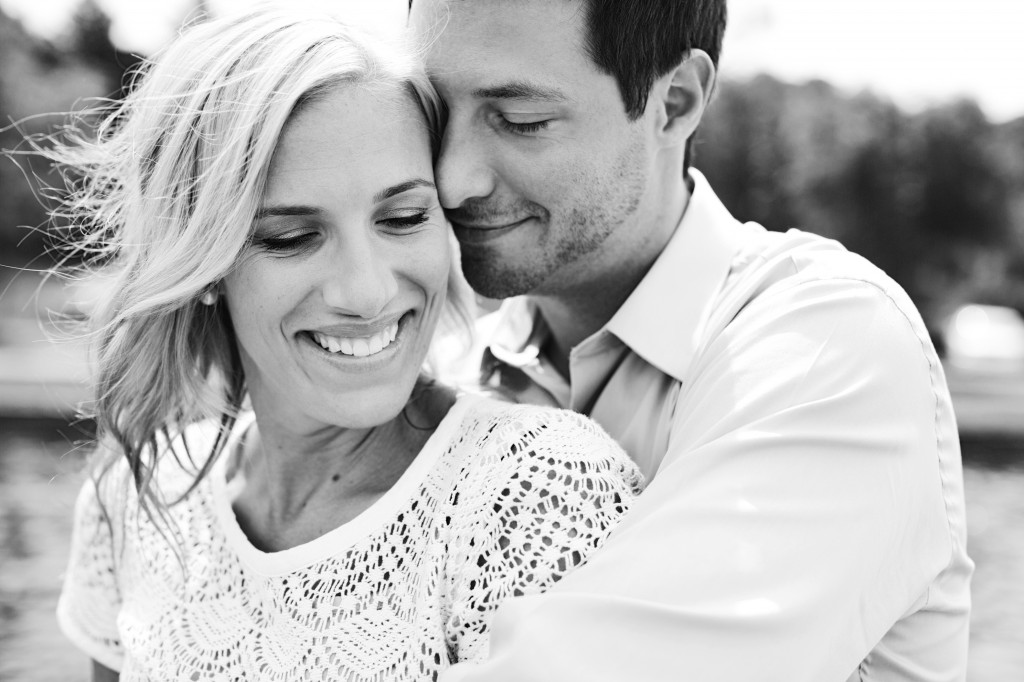 Our engagement:
 "6 months after he moved to Minnesota (so about a year a half after we met) we were taking our first "vacation" TOGETHER.  We had been on airplanes to visit each other, but never together!  We were headed down to St. Petersburg, Florida where a now mutual friend was getting arried.  We made a long weekend out of it and stayed at a nice little resort right on the beach.  The second day we were there, Brandon had suggested we make the drive to Siesta Key Beach - one of the prettiest beaches in the area!  White sand, great restaurants, cute shops, and amazing daiquiri's.   He had taken me there once before - on my 2nd trip down to Florida about a year ago- when we just started  "dating." It was very romantic and I was excited to go back with him! We spent the day doing the things we did on that original date - got  daiquiri's at the same place, walked along the beach, soaked up the sun, looked for shells, and then ended with amazingly fresh seafood at the same restaurant we had previously discovered.  After dinner - instead of going home like we planned, he suggested we go watch the  sunset back on the beach.  I was all for it!  Once we got to a good quiet spot, he told me to get my camera ready for pictures. It got a little chilly being later in the evening and by the ocean, and e put his fleece jacket on me and gave me a wonderful hug, standing behind e.  As he started to tell me all of hese amazing and wonderful things about us, our relationship, our love, and our journey - he reached in his pocket, came around/in front of me, and got down on one knee asking me to marry him and placing a diamond ring on my finger!!!!!
It was the most perfect proposal I could have ever imagined...."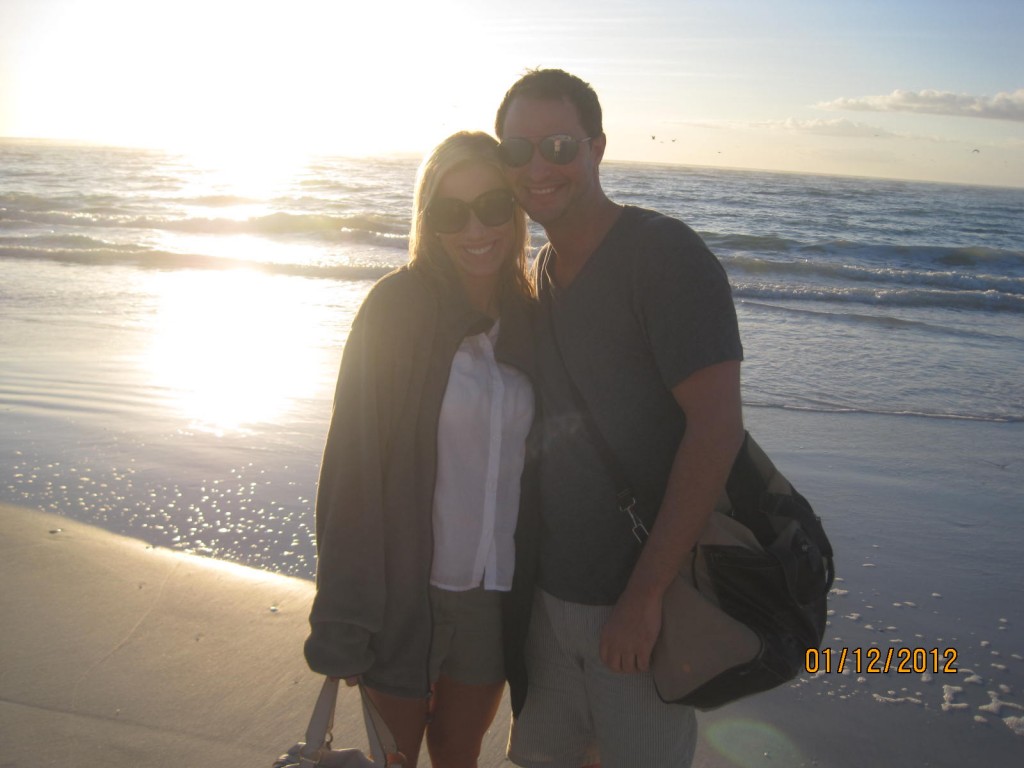 Jodi will  be wearing an Alvina Valenta gown purchased from Che Bella in St. Paul Minnesota!
---