10 Top Shopping for a Wedding Dress Tips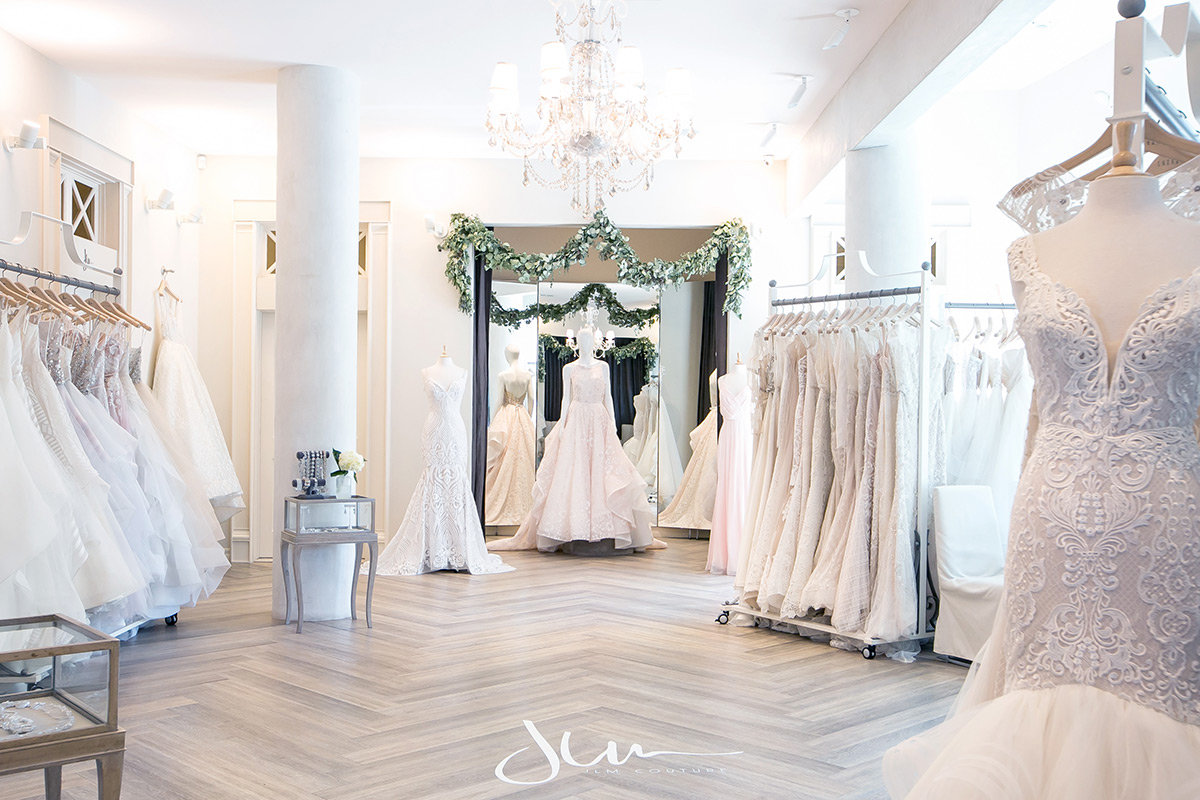 Wedding dress shopping is one of the most exciting parts of being a bride. In fact, it's something many brides look forward to long before the engagement! We love meeting new brides at our flagship boutique in Los Angeles and we're happy to guide you through the process to help you find the gown of your dreams. But it does help to be as prepared as possible. Below, we've got the scoop on ten essential shopping for a wedding dress tips, so you can make the most of the experience.
Research your bridal shopping destination. It may be tempting to go full superbride and visit every shop in town. But ultimately, this will lead to stress and overwhelm. Shopping for your wedding dress should be a magical, once-in-a-lifetime experience, not a marathon. So it's important to be strategic about where you shop. Look for a bridal boutique that stocks a full range of beautiful bridal gowns in different styles, ranging from classics to the latest trends, and where you'll be treated like a princess by knowledgeable staff. (If you're in Southern California, our flagship boutique is just the place…!)
Start early. Many brides don't realize that made-to-order gowns take at least 4-6 months to complete. You'll also need to factor in shipping times, alterations and fittings, as well as delivery time on accessories. With all this in mind, we recommend you order your gown at least eight months before the wedding. (But don't worry if your wedding is less than six months away! Rush delivery may be available and we have a range of designer exclusives and runway samples available for off-the-rack purchase at the JLM Flagship Boutique.)
Make an appointment. It's important to book an appointment well in advance for your visit, so we can ensure that a bridal stylist and fitting room are available. Top tip: weekends are the busiest time for bridal salons, so set aside a weekday for your bridal shopping if you can.
Call ahead. It's always a good idea to call the salon ahead of your bridal appointment, especially if you have your eye on a specific gown or have sizing restrictions. The more we know about you and what you like ahead of time, the better!
Limit your entourage. This is one of the most important shopping for a wedding dress tips. It may be tempting to invite the whole gang, but having too many opinions in the room can be overwhelming. Limit your guests to four or fewer and invite only those whose opinions matter most. And don't be afraid to shop alone – many of our brides prefer it!
Bring along shoes and undergarments. To get the best idea of how each wedding dress will look, wear nude or neutral undergarments. If you have specific shapewear in mind for your wedding day, it's a good idea to bring that to your appointment, as well as shoes at the height you think you will wear.
Arrive feeling your best. You want to look and feel your most confident at your bridal appointment. That could mean starting the day with a yoga class or a massage, getting your hair blown out or makeup done. Whatever it is for you, treat yourself!
Trust your stylist. This is another of the most essential shopping for a wedding dress tips. Your bridal stylist is your BFF in the search for the perfect gown, so always be honest with them about your budget, what you're looking for, and what you do and don't like. Also, be open to their suggestions. Which brings us on to…
Don't be afraid to step out of your comfort zone. Even though it's a good idea to have an idea of what you want, don't limit yourself. Often times, a bride will end up choosing a gown that is completely different from her original vision and falling head over heels in love with it!
Have fun! Remember, bridal shopping should be a great experience! This is your chance to play dress-up on a grand scale and fulfill all those childhood fantasies. Take a deep breath, stay in the moment, and enjoy!
Ready to schedule your appointment at our Los Angeles boutique? Click here.
Top image: Maya Myers Photography
---