JLM Couture Love Story #5
"Patrick and I are big Disney fans. We try to get down there a couple times a year. When it came to be around the time I thought he might propose, I paid particular attention to the times when we were at Disney, which is such a special place for us.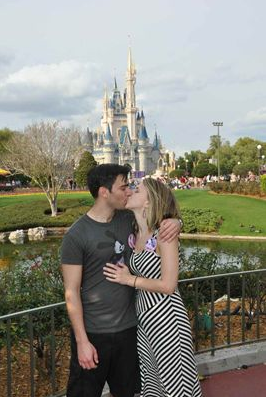 On March 23rd 2013, Patrick and I made our way to the Magic Kingdom, first thing in the morning. We were the only ones on the bus coming from the Saratoga Springs Resort, which has been somewhat of a tradition with us, since we're such early birds! I had been looking for signs since we had boarded the plane the day before that a proposal was coming--but he didn't give anything away. I kept an extra eye on him going through security at the airport, even looked at his pockets on the bus - I didn't see any bulge that looked like a ring box, so I though, "Okay...I guess this isn't happening at Disney. He must think that's too predictable for us."
When we arrived at the gate, Patrick mentioned he wanted us to stop at City Hall and grab a Happy Birthday pin (my birthday had been about 2 weeks prior.) I was sort of confused and asked why that was necessary--we'd already planned on going straight to Splash Mountain (my favorite ride) since it had been closed the last two times we'd been at Disney, and I didn't want to slow us down in any way! He insisted that it wouldn't take us much time at all, that the pins were just in a basket in front of City Hall, and what if we got a free dessert or something? So I agreed that we could stop and get a Birthday pin.
At opening, we stopped by, got a pin, and hurried toward Frontierland. We walked right on to the ride - in fact, we noticed that there was no one behind us. Strange, but I figured everyone now rushes to New Fantasyland, so it wasn't that surprising that Splash was empty first thing in the morning.
We thus had our own boat. While on the ride, we actually laughed because it was completely empty! I took a picture of all the empty boats behind me.
Right as we ascended to the top of the big drop, Patrick got all giggly and took the ring box out of his pocket, and asked me to marry him just before we dropped! He had timed it perfectly - the photo snapped and got my reaction of laughing, crying, while also getting soaked. I said "Yes, of course!" when we reached the bottom and put on my beautiful ring. The center stone was my grandmother's, which Patrick had had reset into the exactly setting I wanted. I was so thrilled with how it turned out!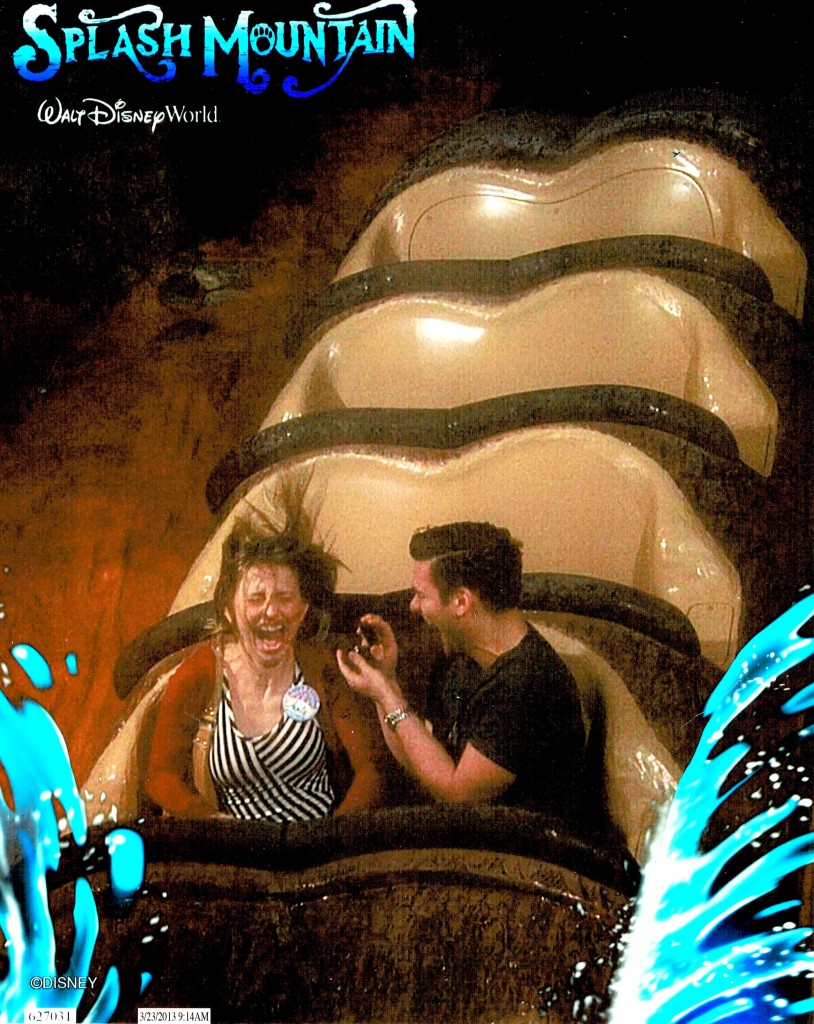 However, the surprises weren't over yet! A bunch of Disney employees were waiting for us when we got off the ride, applauding, and wanting hugs and pictures. They were all in on it and had been expecting us! We were still confused though - how were they all able to hang out and take pictures with us while the ride was going? It turns out that Splash Mountain was supposed to be CLOSED that morning for maintenance...but since Patrick had contacted them ahead of time, they decided to hold off the closing until we arrived! This is when I started to learn how elaborate this plan had been. Patrick had contacted Erin, the Splash Mountain manager, asking for some help. He wanted to ensure that we had our own boat so the picture wouldn't have complete strangers in it. Patrick sent them our pictures, as well as the shirt he'd be wearing, so that any cast members could identify us. They came up with the idea that I'd be wearing a birthday pin, which would give the cast member an excuse to give us our own boat! Now, it turned out that that wasn't even necessary - once the cast members saw us get in line, they actually shut the ride down, which explained why there was no one behind us! I hadn't even noticed. Patrick said on our way in, cast members were giving him the "thumbs up" sign and winking at him--which also went completely unnoticed by me.
But perhaps even the best part was still yet to come…when we exited the ride to go look at the picture that was taken, to my complete and utter surprise, I saw my parents and Patrick's parents waiting for us. WHAT!?!?!? I had absolutely no clue about any of this. Of course, I was a complete mess by that point (I hardly remember it!) but in my confusion, they also informed me that we'd all be staying at the park until Monday (we were supposed to leave that night!) WHAT!?!?!?!?! One thing after another! Disney then showed us our picture--we laughed so hard. So perfect! Patrick just nailed the timing! The Splash Mountain cast members also gifted us the 8x10 picture in a themed frame - what a treasure! "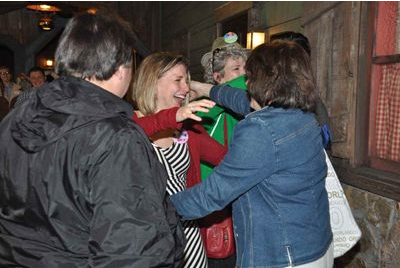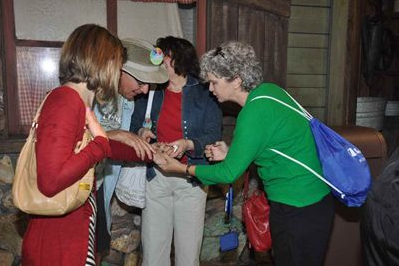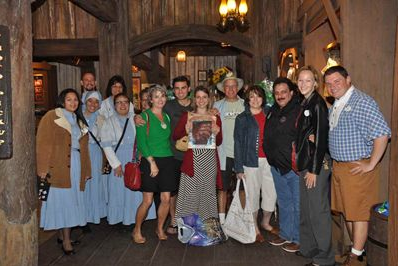 We are so excited to have Annie join the JLM Couture Hayley Paige Real Brides family this summer!
---