A Silhouette Guide to Finding the Perfect Wedding Dress!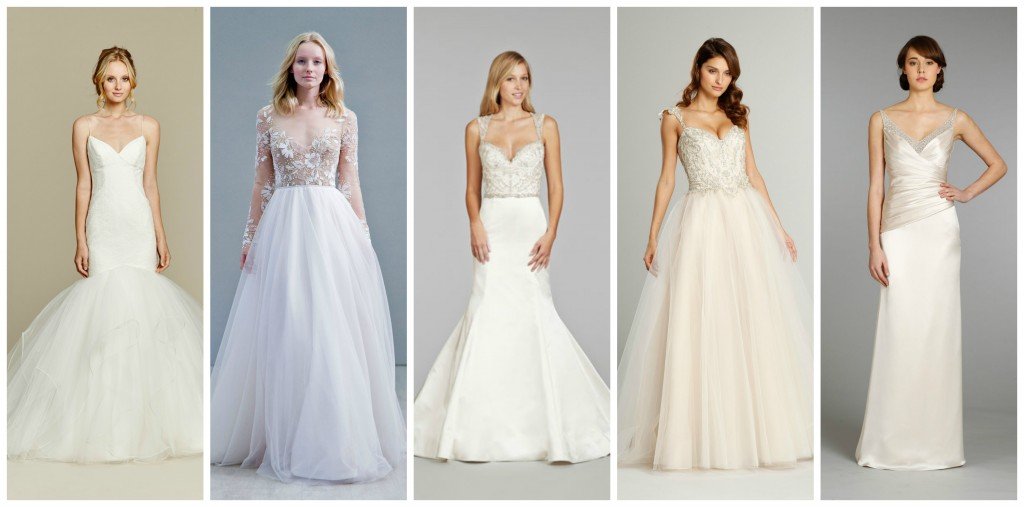 You may be surprised by all the various silhouettes when it comes to choosing a wedding gown. That's why it's so important to understand all their differences before you even start your shopping! On the JLM Couture website, the style search tab allows you to search bridal and bridesmaids gowns by "silhouette." But to give you a leg up on your quest for the perfect fit, here is a quick guide of the various wedding gown silhouettes!
A-line Gown
This flawless silhouette has a fitted bodice and flows out to the ground. It's one of the most popular bridal silhouettes, as it really flatters all shapes and sizes. As the title suggests, the A-line gown represents the outline of the letter A.
Hayley Paige Remmington      Lazaro 3558                           Alvina Valenta 9557
Ball Gown
The ball gown is fitted at the bodice with a defined waistline and from there, follows a full skirt. Ball gowns are ideal for a busty bride, as it creates balanced proportions while also accentuating the waist.
Hayley Paige Nicoletta                Alvina Valenta 9561             Lazaro 3555
Trumpet Gown
This is fitted through the body and flares out from mid-thigh, creating the bell shape of a trumpet. This silhouette adds gorgeous curves to a straight figure.
Ti Adora 7552                          Jim Hjelm 8404                       Tara Keely 2501
Fit n' Flare
The fit n' flare silhouette, often confused with the trumpet gown, flares right below the hip and then gracefully flares out to the hem. The difference between the two silhouettes is; the trumpet starts to flare from mid-thigh and the fit n'flare, flares out from just below the hip.
Blush 1552                                   Hayley Paige Yoko                      Jim Hjelm 8562
Sheath
This silhouette follows the body's curves from top to bottom, giving a sleek, sexy shape. A sheath gown is ideal for petite brides, as the long lines lengthens the look of the body.
Lazaro 3454                                Tara Keely 2550                      Alvina Valenta 9367
So there we have it, a quick guide to the different bridal silhouettes! Don't forget, you can search for that perfect wedding dress by using our style search option on the JLM Couture website. Happy searching!
---